The Best Jobs Page I've Ever Seen
The Stripe jobs page is the best jobs page.
Writing the page required a clarity of purpose that's driven the fintech startup's success in raising $1.6B, attracting talent, and launching new products.
Let's break down why the page is so successful.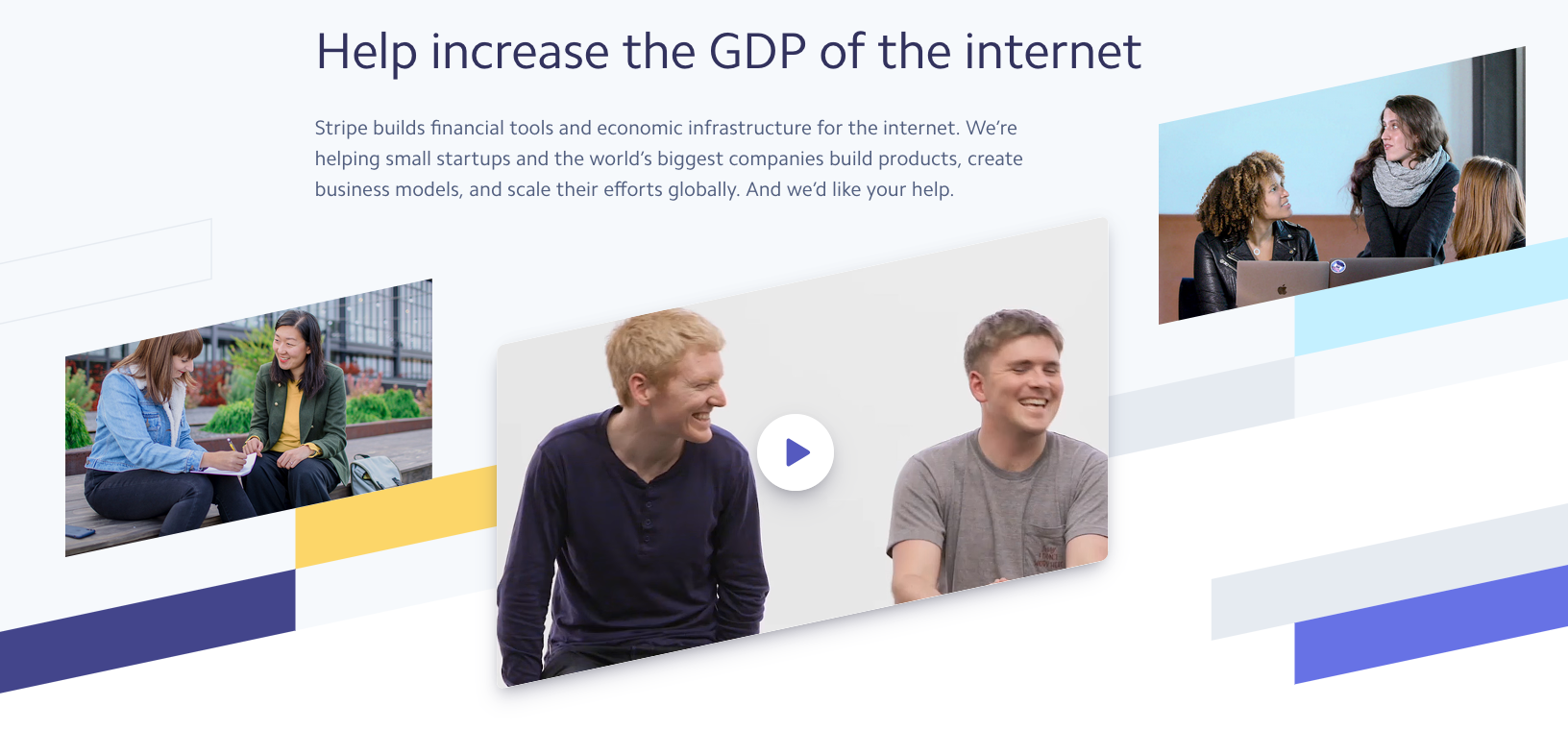 A Simple Call to Action
Help increase the GDP of the internet
Stripe's mission is to "increase the GDP of the internet."
The mission is simple and straightforward but also a massive undertaking that will be insanely hard.
Accomplishing the mission won't be easy, but you can be a part of it. Stripe's phrasing is the perfect way to attract ambitious employees.
What Problem You're Solving for Whom
We are doing the difficult-but-necessary work of building a global payments and treasury network—so entrepreneurs and enterprises can concentrate on creating value, not moving money.
The problem is big and difficult. But the upside—businesses creating more value—is unlimited.
Our customers are the most ambitious organizations in the world.
Notice that Stripe highlights its customers' ambition, not their revenue or headcount. This focus will appeal to the potential hires with the right Silicon Valley mindset. You may laugh at the idea of making the world a better place, but some people believe it. We should encourage them to try.
Attract A Players (and Weed Out B and C Players)
My favorite book on hiring, Who?, suggests setting ambitious targets in job descriptions to attract "A Players who thrive on big challenges that fit their skills." Those targets will weed out the B and C Players who are looking for an easy gig.
Stripe takes this to the extreme with the "challenges we're up against" section. Here the company outlines the extreme difficulties of its work. The challenges are written to attract people who will succeed at Stripe while scaring off those who would struggle.
We have to remain a step ahead of the millions of organizations that use Stripe every day so we help them scale and succeed.
The challenges section is about the company, not the potential hire. Yet, the challenges are written to attract people who are resourceful, produce quality work, are humble, and think long-term.
Meeting Stripe's challenges will present opportunities and rewards.
We are willing to give enormous responsibilities to Stripes at any stage of their career if they demonstrate the right abilities to run with them.
What the Company Can Offer You
After the challenges and opportunities above, Stripe also outlines how it will support you in doing your best work. Most companies write about benefits, perks, or stock options in this section. Not Stripe.
Stripe uses this section to write about training, mentorship, heterogeneous perspectives, ownership, and impact.
Good pay and benefits are necessary but not sufficient for attracting the right talent. In Silicon Valley, pay and benefits are comparable between companies at similar stages. A tech company like Stripe has to focus on opportunity and culture to attract the best people (for Stripe) who want to work on challenging problems.
By clearly outlining their mission, status, and opportunities, Stripe has written a jobs page that will scare off the wrong people but have the right ones fired up to work on hard problems worth solving.
As if the excellent jobs page wasn't enough, Stripe has a separate culture page which reinforces its challenges and long-term perspective.
Copying Stripe
I liked Stripe's page so much that I borrowed (generously) from it in writing the latest Tortuga jobs page.
On the page, I outline our mission and our vision of the future of work as remote and human-centric.
To make sure that I'm writing for my audience, I moved up the "what's in it for you" section from Stripe's page but borrowed Skift's phrasing for making a promise to candidates in this case.
Only after making that promise do we cover our values and why the candidate must align with them to be a good fit. Finally, we list our benefits and open roles.
In the future, we should expand on the challenges inherent in our vision, like working remotely and being entirely self-funded. Both choices make our work harder in some ways but are the right decisions for us. Our commitment to both will attract those who share our beliefs about work.
What other companies have great jobs pages? Let me know.
Fred Perrotta Newsletter
Join the newsletter to receive the latest updates in your inbox.