In my travel hacking guide, I said that travel doesn't have to be expensive. It's true.
The main way I save money on travel is by using credit card points and airline miles to book flights. Don't worry, you don't have to earn those points by spending money.
The first time I saw a six-figure balance of points in my American Airlines account, I was amazed. I thought I had found the holy grail.
Credit card sign up bonuses are the quickest way to a pile of points (or miles). I sign up for a few cards per year and turn the sign up bonuses into free flights. This process is called "churning."
I prefer cards with easy-to-redeem points. I don't want to spend hours pouring over r/churning or jumping through hoops to take advantage of every last trick. I want 90% of the benefits with 10% of the effort.
Before getting into my personal picks, please read the following disclaimer. Then we'll cover the basics.
Disclaimer: Credit cards with travel rewards carry high interest rates. Do not get a travel credit card unless you will pay it off every single month. You will lose more in interest than you will gain in bonuses.
This page includes my personal preferences and is intended for informational purposes only. This page is not intended to provide, and should not be relied on for, financial advice.
Let's continue.
The Basics of Travel Credit Cards
Make sure that any card you apply for has:
At least 25,000 points as a sign up bonus. The best promotions will offer 50,000 or even 100,000 points.
No foreign transaction fees. You want to use your card when you travel and shouldn't be paying extra fees for the privilege.
Beyond these requirements, look for cards with points that you will use. A million points are worthless if you never redeem them. I prefer to redeem points for flights but you may prefer hotel stays with a specific chain.
Most importantly, your card's points should be easy to redeem either directly (like Southwest's point system), through a booking portal (Chase), by transferring points (Chase), or via account credits (Barclaycard, Capital One). What you lose in value, you will make up for in time and ease of use.
The Best Travel Credit Cards (Personal)
I'm currently carrying the Chase Sapphire Reserve and the American Express Platinum.
Both cards are excellent options and popular recommendations. They are expensive but worth the price. I'll tell you why.
Chase Sapphire Reserve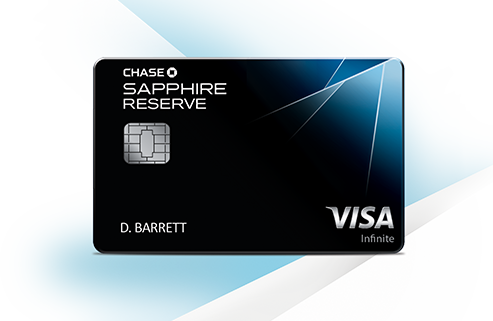 Chase has taken over the travel credit card throne once dominated by American Express.
The Sapphire Reserve and Sapphire Preferred are Chase's premier travel cards.
The Preferred came first, but the Reserve is better because:
You earn 3 points/dollar on travel and dining purchases with the Reserve, versus 2 points/dollar with the Preferred.
You get a better redemption rate on those points. The Reserve gives 50% more value, while the Preferred gives 25% more. So 50,000 points is worth $750 in travel credit with the Reserve but only $625 with the Preferred. (1.5¢/point vs 1.25¢/point)
The price difference ($450/year vs $95/year) is mostly offset by a $300 travel credit, which is automatically applied to qualifying purchases.
You get extra perks including free lounge access, benefits at some hotels, and a free Global Entry and TSA PreCheck membership.
The Wirecutter has more on why the Preferred isn't better than the Reserve. So does The Points Guy. I've had both but exclusively use the Reserve now.
Chase points are great because you can transfer them to Chase's airline and hotel partners or use them to book directly through Chase's site. I do the latter for convenience. However, you can get better redemption rates (the dollar value per point) by transferring points to airline miles and using them for your booking.
The Wirecutter, Extra Pack of Peanuts, and the Points Guy also recommend the Chase Sapphire Reserve.
American Express Platinum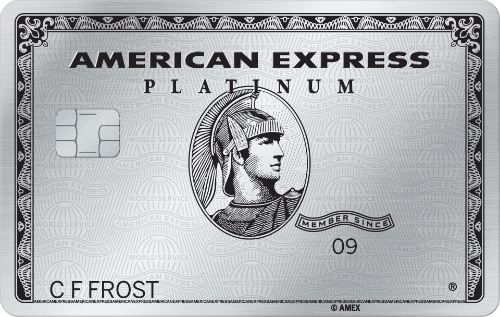 Carrying two cards that cost hundreds of dollars per year is nuts but so am I.
Jeremy convinced me to get the American Express Platinum because it has even better perks than the Chase Sapphire Reserve.
While these cards come with high membership fees, those are offset by the credits, perks, and miles that you get. Make sure to take advantage of these or you really are paying an excessive amount for a credit card with an exorbitant interest rate.
The AmEx Platinum includes $200 in Uber credits and $200 in airline fee credits. You just made back $400 of the $550 fee.
Like the Chase Reserve, you get a free Global Entry and TSA PreCheck membership. You also get access to more lounges, including Priority Pass Select and Centurion Lounges. The Reserve only includes Priority Pass Select.
My favorite perk is that you get automatic gold status at Starwood and Hilton hotels. I signed up for this card for the automatic status.
At Starwood hotels, Gold status will get you extra points, early check in, late check out, and free room upgrades.
More Personal Travel Credit Cards
If you're loyal to an airline or hotel chain, get a card that will earn you points for that program. The best points are the ones that you will use.
If you're looking for your next card to churn, here are a few others that I've used or are highly recommended:
Starwood Preferred Guest American Express: If you don't have the Platinum AmEx, this card can help you get status and perks faster at Starwood. The downside is that the sign up bonus is only 25,000 points.
Barclaycard Arrival Plus Mastercard: Barclaycard's points are easy to redeem for statement credits against travel purchases. However, the redemption value is low (1¢/point).
Venture from Capital One: The Venture card is a popular starter card. Like the Barclay card above, redemption is easy but of low value.
For a constantly updated list of the best cards, check out The Points Guy's Best Cards page.
The Best Business Travel Credit Cards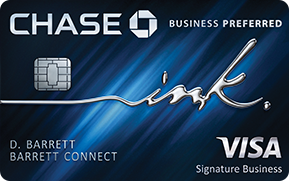 Churning business cards is more of a hassle, so we stick with one at Tortuga. I'll stick to one recommendation here with a few alternatives.
At Tortuga, we use the Chase Ink Business Preferred.
We don't churn our business credit cards, so we wanted a solid card with easy-to-redeem points. We've used these Chase points for flights to retreats and to trade shows.
The Ink Preferred works much like the Chase Sapphire Preferred personal card. They each cost $95/year.
Chase Ink Business Preferred
80,000 points when you sign up (This is a great offer.)
3 points per dollar spent on the first $150,000 in spend in select categories
25% bonus when redeeming points for travel through Chase's portal
The Chase Ink Preferred is a solid but unspectacular business credit card. The Points Guy has the Ink Preferred as his top business card as well.
Many companies offer personal and business versions of the same card. Surprisingly, the personal offers are often better. For example, there is no Chase Reserve for Business. As you'll see below, the personal AmEx Platinum comes with better perks than the business one.
More Business Travel Credit Cards
American Express Business Platinum: The business version of my second favorite personal card. This card has similar perks except for the Uber credits.
Starwood Preferred Guest Business AmEx: The SPG Business AmEx is another business version of a personal card pick. This was the first credit card that we used at Tortuga. The sign up bonus is low (25,000 points), but you'll be able to earn SPG status and points easily.
CitiBusiness / AAdvantage Platinum Select Card: This was my first business credit card. I had an earlier version of this card for my consulting business because it had a 100,000 point offer at the time. The current sign up bonus is 60,000 which is good if you fly American Airlines or any others in the Oneworld alliance.
Best Personal Travel Debit Card
Debit cards don't have the same perks as credit cards. They may not be as fun but, if you pick the wrong card, you'll be buried in fees or be unable to get cash when you travel. Don't screw this one up.
For Americans, the Schwab Bank High Yield Investor Checking Account is the clear winner. I've had it for years and recommend it to every traveler I know. I now use the Schwab card full-time after ditching Bank of America for my checking account.
The name sounds complicated, but this is just a normal checking account. Because Schwab is a brokerage firm, the checking account comes with a brokerage account. You don't pay extra for that account, don't have to ever use it, and don't have to carry a balance there. Ignore it, and use this account like any other checking account.
The advantage of the Schwab card is that you can use your debit card to withdraw money from any ATM, anywhere in the world. At the end of the month, Schwab will refund all of your ATM fees back into your account. You never have to worry about finding your bank's or its partners' ATMs when you travel. Thanks, Chuck.
Like the credit cards mentioned above, the Schwab debit card also has no foreign transactions fees. If you're in a country that takes cards, use your credit card so that you're earning points on every purchase, not just dodging fees. Use your debit card to withdraw local currency from ATMs at a favorable exchange rate. Never get a cash advance from your credit card.
Getting Started
The travel credit card game can take up as much of your time as you allow. I always thought that I was savvy about this stuff. Then I went to a travel hacking meetup. Everything was way over my head.
At the end of the meeting, they asked what everyone was interested in learning. I asked, "How do I get most of these benefits in a few hours per month?" I wanted to learn from the people who dedicated their lives to this, not to dedicate mine too.
This post and the travel hacking post are meant to help you do the same. Go slowly. You don't have to do everything all at once. If you're just starting out, set a goal like a big trip that you want to take. Having an goal to work towards will make this process way more fun.
Focus your efforts on one card or program to start. As you branch out, use Award Wallet to track your points across programs.
For more on travel credit cards, read these sites:
Disclaimers:
This website does not provide financial advice. This page is intended for informational purposes only, and is not intended to provide, and should not be relied on for, financial advice. You should consult your own financial advisors before engaging in any transactions.
Some of the links on this page are affiliate links. If you sign up or buy something through an affiliate link, I make a small commission at no additional cost to you. I use these products and highly recommend them. If you think my recommendations can help you, use them. If not, don't.