Dressing well should be easy for men, but most guys fail at it. I've found the idea of a "capsule wardrobe" to be the best way to dress well, pack light, and minimize the time and money that I spend on clothes. Think staples, not trends or, God forbid, travel clothes.
This page outlines how to build a capsule wardrobe as well as the brands and specific products that I recommend.
What is a Capsule Wardrobe?
A capsule wardrobe is a collection of basic clothing that will never go out of style. Each item in a capsule wardrobe should be functional and interchangeable.
Build a capsule wardrobe out of high-quality, investment pieces. The items I recommend below are often more expensive than the "mall brand" equivalents. Many of the products below are made of technical materials and/or made in the US, hence the higher price tag.
A good capsule wardrobe is not disposable. Fast fashion has no place in a capsule wardrobe. Save up for any items that you can't afford right now. In the meantime, use what you already own or buy affordable basics from Uniqlo.
You don't have to replace your entire wardrobe all at once. Experiment. Figure out which brands fit you well and look good on you. Buy more from those brands. The capsule wardrobe below is what works well for me.
For more on capsule wardrobes, read How to Build a Travel Capsule Wardrobe.
Bottoms
My pant game is strong. For me, pants are an investment. I wear the same one or two pairs every day until they fall apart.
Then, I repair them if possible. For $20–40, you can patch up a pair of jeans and get another year or two of wear from them. Many higher end denim brands can arrange repairs for you. You can also check with local specialty denim stores.
Long Pants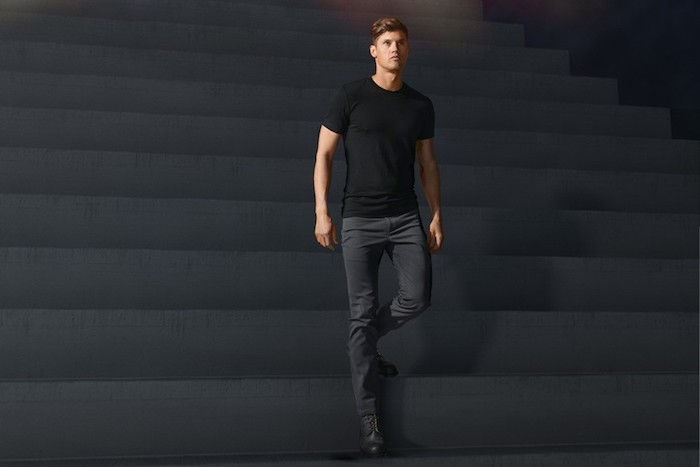 Outlier is my go-to brand for pants and shorts. I wear the Slim Dungarees ($198) most days. They repel liquids and stains, dry quickly, and have just enough stretch. At 10 oz., the Slim Dungarees' fabric is lighter than most jeans, making them easier to pack.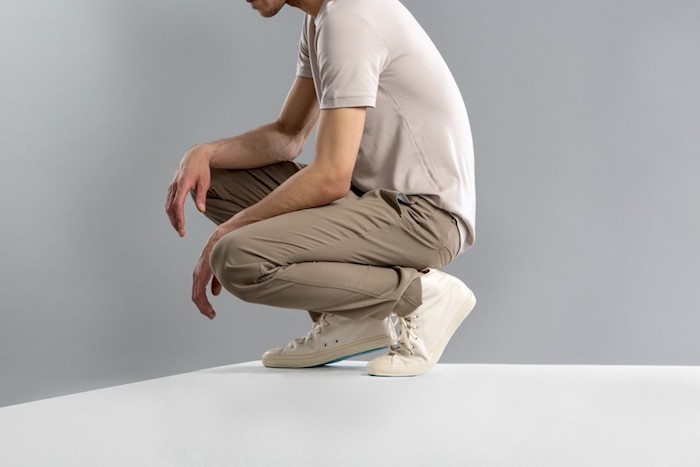 I prefer the 5-pocket jean styling of the Slim Dungarees, but Outlier makes chinos and other pants with similar properties. I also own a pair of their Futureworks chinos for warmer weather.
If you only wore the Slim Dungarees every other day for one year (they'll last much longer), the cost/wear is just $1.08. Not bad for your go-to, wear-every-day pants.
Shorts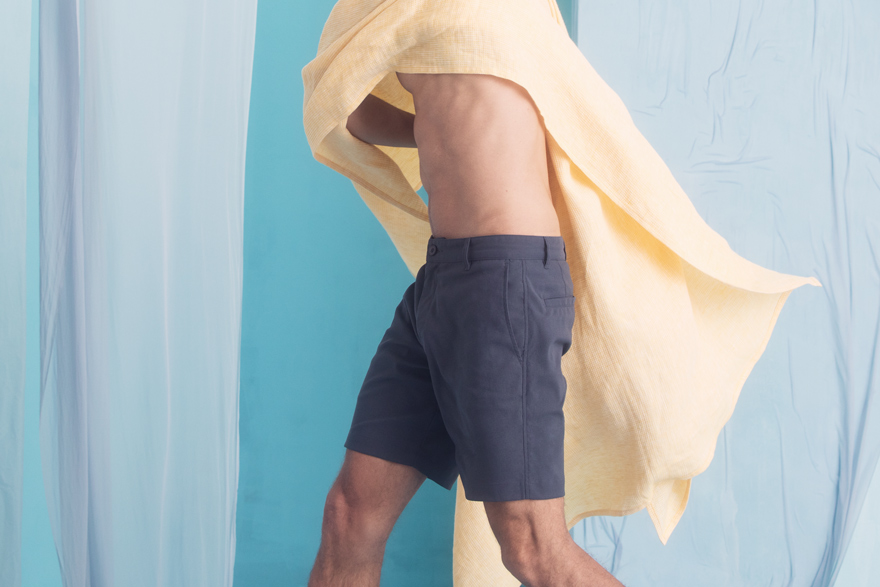 For casual shorts, I prefer the Outlier New Way Shorts ($120). The NWs are the short version of the Futureworks mentioned in the last section. As a bonus, you can even swim in them.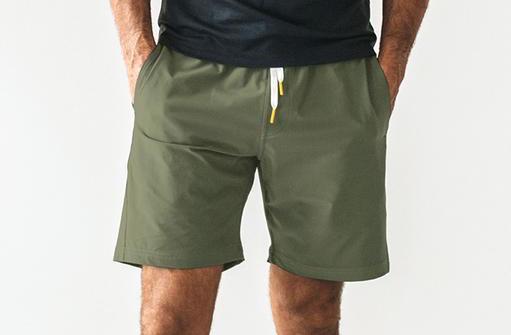 The Olivers All Over Shorts ($68) are my favorite gym and casual shorts. Unlike most athletic shorts, they're understated without any huge logos or obnoxious colors. You could wear them to yoga then out to brunch without advertising, "I just worked out!"
The All Over Shorts are lighter and thinner than my previous pick, the Myles Everyday Short, which should help them dry faster after a swim or handwashing in the sink.
Tops
Shirting is the weakest part of my capsule wardrobe. You can find more high-quality shirts than pants. The endless variety of styles makes finding the perfect set of shirts harder.
T-Shirts
I live in the Slim Dungarees and t-shirts.
I used to be an American Apparel loyalist but, after they imploded and sold to Gildan, I made the switch to Uniqlo's Dry T-Shirts ($5-15). They're perfect for everyday use and come in a variety of colors and styles.
Merino wool t-shirts work better than synethtics and blends, especially if you don't need any sweat wicking. Merino works well in a variety of climates and never seems to smell, even if you re-wear it. Unfortunately, merino t's are often too expensive given their lack of durability. Thin merino t's feel nice but develop holes after repeated use.
After some trial and error, I landed on Outlier's Ultrafine Merino T-Shirt ($98). As you may have guessed from the price, I only own one. However, it's perfect for long, transcontinental flights and for reducing the total number of shirts that I bring on the road with me.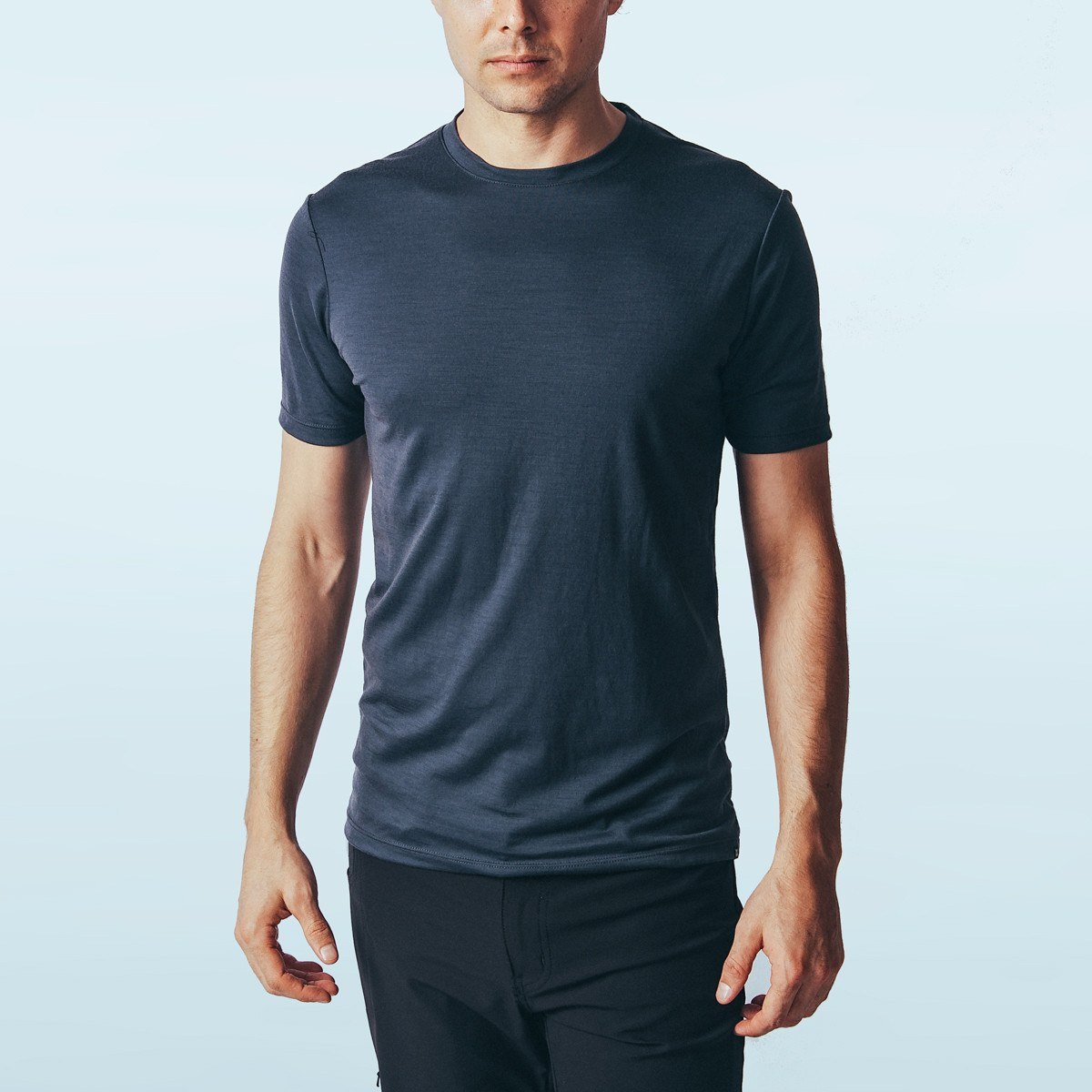 After wearing holes in merino shirts from Ibex and Icebreaker (but not Outlier), I bought Mission Workshop's Sector MC ($72), which is made of merino wool wrapped around a nylon core for better durability.
Long-Sleeved Shirts
For long-sleeved shirts, I favor henleys, work shirts or shirt jackets, and oxford cloth button downs.
Button Downs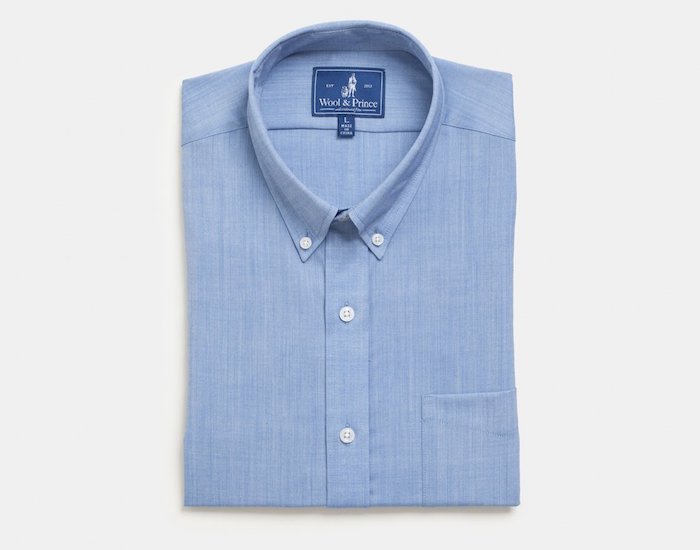 If I had to pick one button-down for my travel wardrobe, it would be the the Wool & Prince Button-Down Blue Oxford ($128). W&P's shirts are 100% merino wool but still feel light because they're relatively thin. I haven't had any issues with durability, though I don't wear button downs as often as I've worn merino t-shirts.
For more formal occasions, the Ministry of Supply Apollo 3 ($115) is my go-to dress shirt, which means I wear it to every wedding that I attend. The Apollo looks like a twill shirt but has the benefits of technical clothing with extreme stretchiness. The stretchiness allows for a full range of motion, even when your shirt is tucked.
The rest of my button downs are Uniqlo Oxfords ($30).
Base Layers
Any merino wool base layer will help to keep you warm without taking up much space in your luggage. I bought the Icebreaker Men's Everyday Long Sleeve Crewe Top because it's so thin and light. The prices for Icebreaker gear vary, so shop around and wait for a good deal. I got this shirt on Amazon for half of the in-store price of $90.
When my merino shirts start to develop holes, I demote them to base layers where no one will notice that my shirt looks like Swiss cheese.
Underwear
First, read Snarky Nomad's in-depth guide to men's underwear and the best existing options. You will want something that fits comfortably, breathes, is lightweight (for packing), and dries quickly.
In short, don't buy cotton underwear.
After getting a free pair at the Outdoor Retailer show, Terramar became my underwear brand of choice. Their value option is the Terramar Men's TXO Silkskins 6" Boxer Briefs ($15 for 3). At $5/pair, they are half of the best price for Uniqlo AIRisms, the usual value choice.
For a splurge, try the Pro Jersey II Boxer Brief ($30) or the MicroCool Mesh 6" Boxer Briefs ($25).
Socks
After years of wearing Smartwool, I now wear Darn Tough. My Smartwool socks tend to wear out near the bottom of my Achilles tendon, which may be because of my heel shape and wear patterns.
Darn Tough are also made of merino wool and are comparably priced. Try both brands and go with what feels best to you.
For no-show socks in the summer, you can't beat the pricing on Uniqlo Low Cut Socks (3 for $10). All of their socks are one-size-fits-all which can be unideal if your shoe size is especially large or small.
For dress socks, I wear Outlier Megafine Merino Socks ($25), which, again, are excellent but expensive.
Outerwear
Pack in layers, not in bulk.
Don't pack a coat unless you're going to a truly frigid climate. Only bring a jacket that you are willing to wear most of the time on your trip. I avoid cold weather when I travel, so I rarely need more than a light jacket. Luckily, I live in the Bay Area and have several, from cardigans to hoodies to a Harrington jacket.
For a capsule wardrobe, I prefer a shirt jacket that can be worn either as a shirt or as a jacket (over a t-shirt or henley). Outerwear differs wildly by style and purpose. Versatility is key for a capsule wardrobe.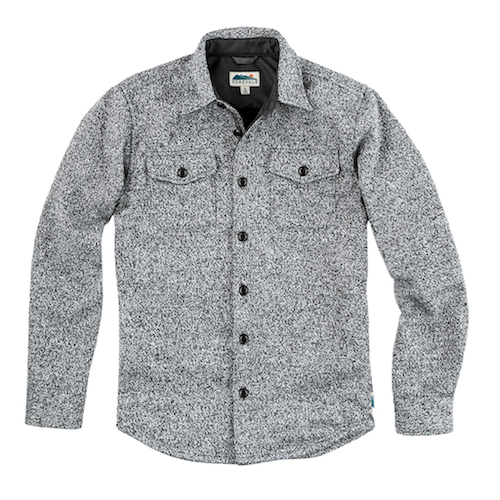 I wore American Apparel hoodies for years, but they make me feel like a schlubby American when traveling. Lately, I've been replacing that layer with my Edgevale North Coast Shirt Jacket ($215) when the weather is cool enough. I'm still looking for a lighter-weight layer that can keep me warm on the plane without taking up much space in my bag.
For colder weather, I have a Uniqlo Ultra Light Down Jacket ($70) which can be packed into a small bag that comes with it.
For rainy weather, I have a Patagonia Torrentshell Rain Jacket.
Closing Thoughts
A capsule wardrobe requires a shift away from cheap, disposable clothing to high-quality, investment pieces. Keep it simple, and you'll look better and pack lighter.
This post reflects my personal preferences, but I hope that it gave you some ideas on what to buy and some new brands to explore.
If you have any other recommendations to share, send them to me on Twitter. I have way too much fun trying to refine my capsule wardrobe.
---
This page is a living document, which I update with new items from time-to-time.
Updates
8/20/18: Changed shorts pick to Outlier New Ways, underwear pick to Terramar, and socks to Darn Tough. Added Mission Workshop Sector MC t-shirt.
1/8/18: Updated my gym shorts pick, added Uniqlo Oxfords, and fixed the Ministry of Supply link.
---
Disclosure: Some of the links on this site are affiliate links. If you sign up or buy something through an affiliate link, I make a small commission at no additional cost to you. I use these products and highly recommend them. If you think my recommendations can help you, use them. If not, don't.