How We Set Salaries at Tortuga
From the early days at Tortuga, we followed the example set by other remote companies. Companies like Basecamp and Buffer worked remotely and were successful. Why couldn't we do the same?
Jeremy and I started the business as remote co-founders. The examples set by other remote companies gave us the confidence to build a remote team.
When we started hiring at Tortuga, I had no plan. We didn't have a system for setting salaries or ranges. Every hire and negotiation started from scratch. I didn't feel confident in this ad hoc process being effective for Tortuga or fair for our future teammates.
In retrospect (small sample size alert), men were more likely to negotiate or push back on an initial offer. Women were less likely to negotiate. When a candidate named a number, the process was easier for me, but it never felt "right." Those were cop outs, not successes.
I knew that we could create a fairer system that wasn't a function of the candidate's willingness or my ability to negotiate. Our goal was to make salary setting fair and easy. We wanted to get it right but also to get it done quickly so that we could move on to the real work.
Inspired (again) by the transparency of remote companies, we built our own compensation model to include Tortuga-based salary benchmarks for a given role, one's level within that role, and one's tenure at Tortuga. The formula is a work in progress. Here's how it looks today.
Goals
The goals of our salary-setting system are:
Remove gender and other biases from salary setting.
Build a system around promotions and raises so that teammates know how those changes will affect their salaries.
Simplify budgeting and decision making during the hiring process. As a remote company, we can hire from anywhere. Depending on where a candidate lives, salary expectations can vary wildly for equally experienced candidates. We wanted to remove this consideration from the hiring process (so that we choose the best person overall) and to make it possible to budget for new hires before knowing where the person lives.
Create a simple, fair, and easy to understand system that we feel confident explaining to potential hires and that they will trust.
Research
Buffer
We started this process by looking at how other remote companies pay their employees.
Buffer is the most transparent. They use a salary formula which they've refined over the years. The formula is illustrated below and includes:
The SF 50% percentile market rate
A cost of living multiplier
A role multiplier and
An experience multiplier
In addition to outlining their process, Buffer publishes a calculator to calculate your potential salary and a spreadsheet of everyone in the company's salaries.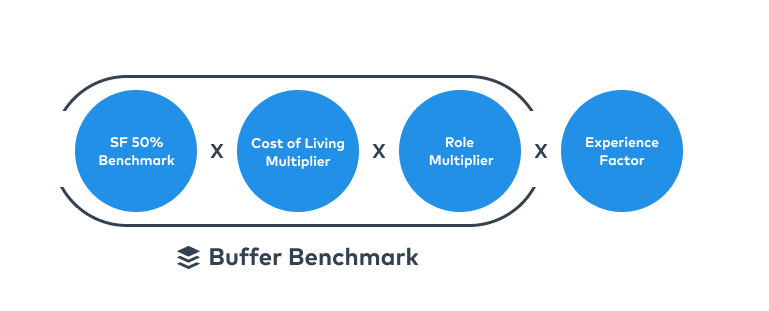 Basecamp
Basecamp used to set salaries with their headquarters of Chicago as a benchmark. Now Basecamp pays "in the 90th percentile, or top 10%, of the San Francisco market rates, regardless of their role or where they live." The best part is that they don't even have any employees in San Francisco. San Francisco is their benchmark because it's "the top of the market for technology businesses."
In 2019, Basecamp offically set their minimum salary at $70,000.
Other
HelpScout shares their approach to creating a salary framework but few details on the numbers.
Know any other companies sharing their approach to salary setting? Let me know, and I'll add them here.
Questions and Decisions
Looking at other companies brought up some important questions for us at Tortuga.
How much should we factor in location when calculating salaries?
Do we need a baseline location, like San Francisco, to normalize salaries across the world?
What location would we use if someone moves frequently? Should their salary change every time they move? How would we budget for unforeseen salary changes due to moves?
We decided on role-based salaries at US market rates. A teammate's salary should reflect the value they bring to the company, not where they live. Since Tortuga is a US company, we use US data as our baseline. Should two teammates, contributing equally, be paid radically different salaries because one lives in Thailand (by birth) and another lives in San Francisco (by choice)? We decided no.
Every system will have upsides, downsides, and tradeoffs. We chose the combination that we could live with and that we felt best reflected Tortuga's values.
Salary Formula
Our basic salary formula is:
Salary = Tortuga Base * Level * Tenure
Tortuga Base
Based off of median salary data from Payscale and Glassdoor with adjustments for roles that we feel aren't properly valued or compensated, like customer service.
We adjust the base salary when someone changes roles or is promoted to a new job title, e.g. from Marketing Manager to Marketing Director.
Regardless of one's starting salary, their Tortuga base salary will always be in line with others in the same role. No one should be punished for earning promotions within Tortuga rather than joining the company later in their career at a more advanced level. For example, the base pay for a Marketing Director-level teammate should be the same whether they was promoted internally or recruited externally. The tenure multiplier, below, is to account for staying and growing within the company.
Level
Each role has four levels ranging from beginner to master of that role and skill set.
For example, someone at Level 13 is a master of their current role. Next, they would be expected to take on a different or larger role at which they would be a beginner. Their title and base would change as in the Manager to Director promotion above. The base would be higher while their level would reset to Level 10 at that new role.
Level 10: 1.0x
Level 11: 1.1x
Level 12: 1.2x
Level 13: 1.3x
Tenure
For each year that a teammate works at Tortuga, they will receive an automatic 2.5% raise. We hope to keep our team together for a long time. Tenure-based raises are one way to reward staying and growing at Tortuga. A tenure multiplier is important since we don't offer equity grants because we don't intend to sell the company.
Buffer did away with tenure in their latest formulas, so I'll be keeping an eye on how other companies handle this point in the future.
Other Considerations
In the US, we offer 401k retirement savings plan through Guideline and match 100% of employee contributions up to 4% of their salary. Outside of the US, we don't have an automatic contribution plan, so we include a 4% bonus in non-US employees' salaries as the "match."
Of course, we can't be sure that they contributed 4% of their salary to retirement in the first place or that they contribute this bonus to retirement. Honestly, we don't care. This is the easiest way for us to make retirement matching equitable across the world.
The Future
As with everything that we do at Tortuga, this system will continue to evolve as the company does. Feedback is always welcome.
Fred Perrotta Newsletter
Join the newsletter to receive the latest updates in your inbox.